KAOS KOHERENTE RECORDS
KAOS KOHERENTE RECORDS
Kaos Koherente is an independent punk record label, the first one in this god-forsaken country! We have been around for more than 7 years...and here in Guatemala that is like half a century...
We have worked really hard over the past few years and have managed to help many bands releasing their music and ideas, eventhough we dont have the money or resources to always give a "good" presentation on our cd´s...what the fuck are we talking about! cd-r´s and tapes are just as good.
Our fanzine started moving around Central America and now it goes as far as Slovakia.
Issue 4 of the fanzine is comming up, so if you are interested in contributing with an article, scene report, band bio or want you band to be interviewed...just email us!
The New DESADAPTADOS LP is starting to be planned so stay alert for its release. Also DESADAPTADOS just updated their myspace so go check it out now!! www.myspace.com/desadaptados
CACOSMIA - "Por un mundo nuevo" (single) is now out roaming the streets so feel free to copy it and give it away.
Also we have the new Tropiezo/Armada Roja cd-split wich is rocking our holes!! You should really get it. This album was released by Kaos Koherente Records, Discos de Hoy, Sorginkale Banaketak and other amazing people around the world wich makes real punk available for those few true punks sleeping on the sidewalks of some thirdworld country.
MYSPACE: www.myspace.com/kaoskoherente

CONTACT US
WRITE TO US TO OUR EMAIL...OR WAIT A FEW DAYS TILL WE PUBLISH OUR ADDRESS...SALUD!
KAOS KOHERENTE IN AN INDEPENDENT RECORD LABEL/ZINE/FILM STUDIO/BUNCH OF DRUNKS THAT ARE HERE TO HELP PUNK BANDS TO GET THEIR SHIT OUT...OH YEAH, WE HAVE TONS OF OLD GUATEMALAN PUNK ROTTING AROUND OUR HOUSE...SO YEAH...LETS TRADE!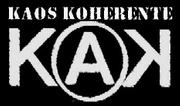 IMPORTANTE:
EL SITIO DE LA DISKERA ESTA EN INGLES POR RAZONES DE COMUNICACIÓN A LA MAYOR CANTIDAD DE GENTE POSIBLE...PERO SI, HABLAMOS ESPAÑOL!! ASI QUE CUALQUIER CONSULTA NOS MANDAN UN EMAIL...SALUD!